Chicken Tinga Tacos.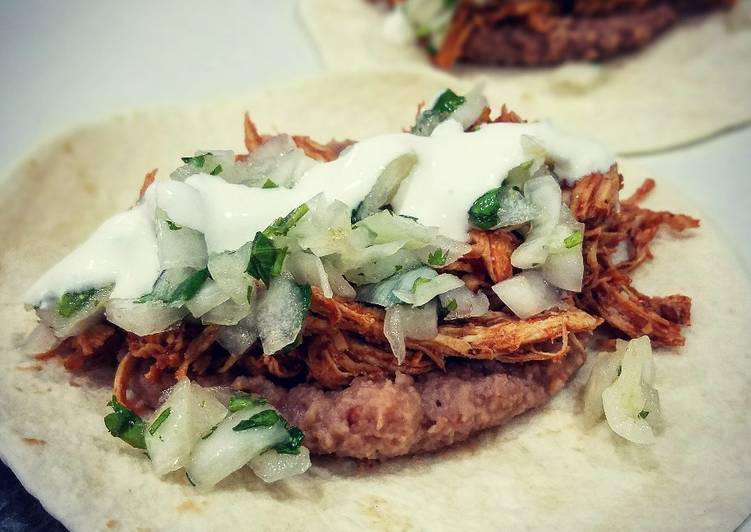 You can have Chicken Tinga Tacos using 18 ingredients and 10 steps. Here is how you achieve that.
Ingredients of Chicken Tinga Tacos
Prepare 4-5 of chicken thighs or breasts.
It's 1 can of chicken stock.
Prepare 1 of red onion – chopped.
You need 1/4 cup of olive oil.
It's 1 packet of chicken taco seasoning.
Prepare 1 of large white onion – chopped.
It's 1 of small can of chipotles in adobo sauce.
You need 1 jar of roasted roja salsa – medium.
It's 1 of small heavy cream.
Prepare 1 container of sour cream.
It's 1 package of mexican fresco cheese.
You need 1 package of cilantro.
You need 2 of limes.
Prepare 1 can of mexican refried beans.
Prepare 1 package of flour tortillas.
It's of Salt and Pepper.
It's of Cumin.
It's 1 tablespoon of minced garlic.
Chicken Tinga Tacos instructions
In a 3.5 cast iron braiser, light coat bottom of pan with olive olil in medium high heat. Add garlic and 3/4 of red onion to pan, cook until soft. Preheat oven to 350F degrees..
Deglaze pan with 3/4 of the chicken stock. Add chicken, taco seasoning, salt and pepper, browning both sides. Put lid on and turn down heat to simmer.
In a food processor, puree chipotles and roja salsa and remaining red onion. Add remaining chicken stock, puree into smooth..
Pour half of chipotles blend to chicken. It should cover most of the chicken. If there isnt enough liquid, add some extra roja salsa. Cover with lid and put into oven for 20 to 30 minutes..
Chop whole white onion and cilantro. Juice 1 to 2 limes. Mix onion, cilantro, and lime juice. Add cumin to taste. Place in refrigerator..
In a food processor, add half of the fresco cheese, cup of heavy cream, cup of sour cream. Puree until smooth. Add cream or sour cream depending on consistency you want. I like mine on the thicker side. Refrigerate..
Check and see if chicken is cooked after 20 minutes. If its starting to pull a part, keep in pan and start to rough shred. Cover and put back in oven for another 10 minutes..
In a small pot, heat the refried beans. Add alittle water to smooth the consistency..
Take out brasier and shred any bigger pieces of chicken. Take out a large frying pan and place on high heat. Add shredded chicken to pan once pan is hot. Add two to three tablespoons of chipotle blend. The chicken should crisp up quite a bit..
Taco time! Assemble your taco using the flour tortillas, refried beans, chicken, onion relish, and fresco crema. Garnish with cilantro. You can fry the flour tortilla as well, making a puffy taco. Enjoy!.