Tuna Tasties – treats for cats.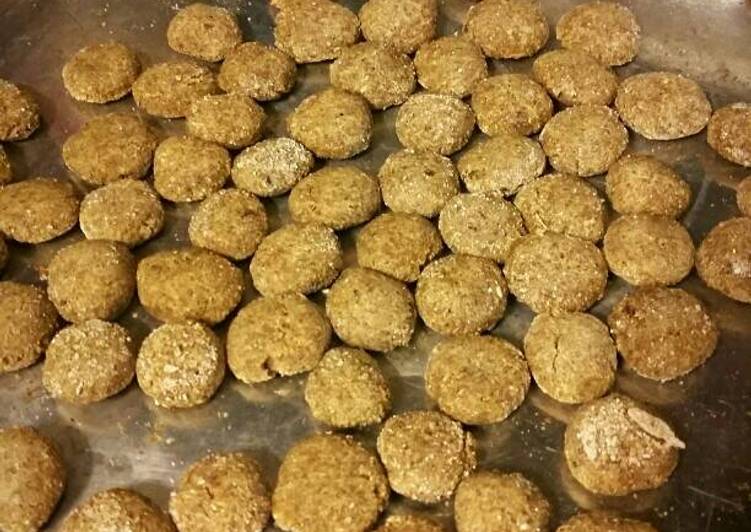 You can cook Tuna Tasties – treats for cats using 5 ingredients and 6 steps. Here is how you achieve it.
Ingredients of Tuna Tasties – treats for cats
You need 1 can of tuna in oil – drained.
You need 1 of large egg.
It's 1 1/4 cups of whole wheat flour.
Prepare 1/4-1/3 cup of water.
Prepare 2 tsp of catnip (optional).
Tuna Tasties – treats for cats step by step
Preheat oven to 350°F. Line a baking sheet with parchment paper..
Place all ingredients in the bowl of a food processor and blend until a dough ball forms. Touch dough. If it feels extremely sticky add additional flour 1 tbs at a time to absorb some of the extra moisture. If dough won't come together add additional water 1 tbs at a time until it forms a ball..
Sprinkle your counter top with flour. Turn dough out onto counter. Flatten by hand into a disc and sprinkle top generously with more flour. Use rolling pin to roll out dough to 1/4 inch thick, adding extra flour as necessary to prevent sticking..
Cut dough into 1/2 inch squares or use a bottle cap to cut out small circles..
Place pieces on prepared baking sheet. Bake until golden and puffy, about 20 minutes depending on size. Let cool completely before serving kitty!.
Note: if you do not have a food processor you can mix the dough by hand using a wooden spoon. Just stir the tuna around to break it up before adding any other ingredients..