Tasty Thai Tuna Salad.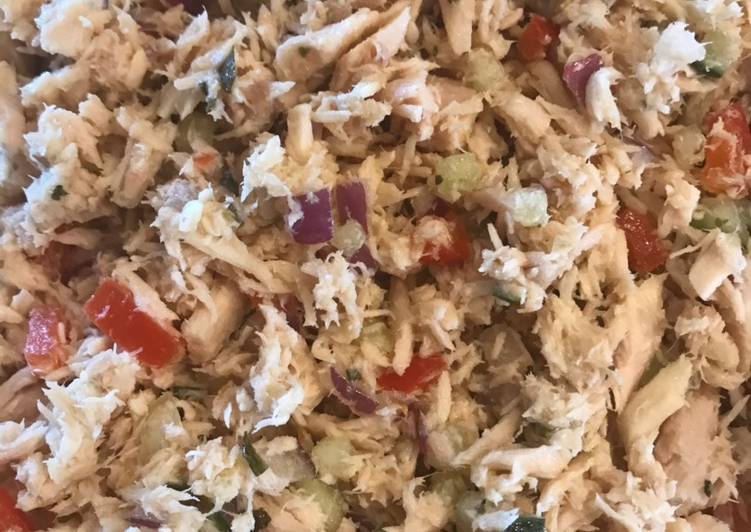 You can have Tasty Thai Tuna Salad using 11 ingredients and 5 steps. Here is how you achieve it.
Ingredients of Tasty Thai Tuna Salad
Prepare 2 cans (7 oz) of solid white albacore tuna in water (drained).
Prepare 1/2 cup of red bell pepper, diced.
It's 1/3 cup of red onion, diced.
You need 1/4 cup of seedless cucumber, thinly sliced then diced (regular cucumber will work also if that's all you have).
It's 1/8-1/4 cup of Toasted Sesame Oil (adjust to your taste…I used about 1/4 for a more moist salad).
Prepare 1 of lime, completely juiced (if using bottled lime juice, use approx 1 1/2 tbs).
You need 1 tbs of rice vinegar (I added a little more but be careful because this will overpower if there is too much).
It's 1 tbs of Pink Himalayan Salt (or sea salt will be fine).
Prepare 1 tbs of Crushed Dried Thai Pepper (or fresh ground black pepper if that's what you have).
It's 1 tbs of Sesame Seeds (lightly toasted if possible).
It's 1 tsp of minced ginger.
Tasty Thai Tuna Salad instructions
Dice your red bell pepper, red onion, and cucumber and mix together in a medium bowl..
Add in canned tuna and make sure it is completely shredded and mixed red peppers/onion/cucumber..
In a small bowl, add toasted sesame oil, lime juice, minced ginger and salt and mix until well combined. Pour over tuna mix and toss making sure everything is well coated..
Add Crushed Thai Pepper to achieve your heat level. If using regular fresh ground black pepper, adjust to taste, approx 2 tsp).
Garnish with lightly toasted sesame seeds (or mix in if you like).