Mango-Bell Pepper Beef Tacos w/ Grilled Scallions.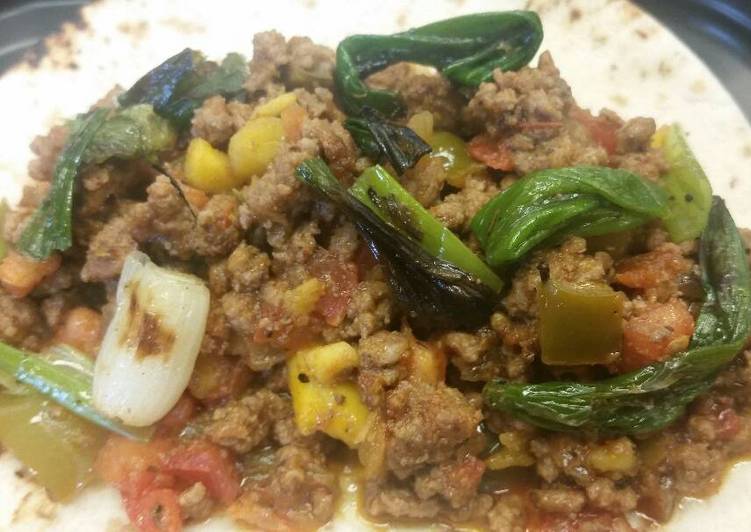 You can cook Mango-Bell Pepper Beef Tacos w/ Grilled Scallions using 12 ingredients and 8 steps. Here is how you cook it.
Ingredients of Mango-Bell Pepper Beef Tacos w/ Grilled Scallions
You need 1 lb of ground beef.
You need 1 of green bell pepper; small dice.
It's 1/2 of red onion; minced.
You need 2 T of vegetable oil.
You need 2 t of ground coriander seed.
You need 1 t of cumin.
Prepare 1 t of garlic powder.
It's 1 t of onion powder.
It's 1 C of mango salsa.
You need 1 bundle of scallions.
It's 1 of lime; cut into wedges.
It's as needed of kosher salt & black pepper.
Mango-Bell Pepper Beef Tacos w/ Grilled Scallions instructions
In a mixing bowl, combine 1 T vegetable oil with scallions. Add a pinch of salt. Toss to coat scallions. Grill over high heat briefly until charred and softened on each side, about 1-2 minutes each side. Roughly chop scallions when cool enough to handle, and set aside..
Heat a medium sized saute pan with 1 T vegetable oil. (Ground beef does not need oil or added fat to cook, but adding a little bit of oil can help to prevent onions and peppers from burning before ground beef renders fat).
Add beef. Season with coriander, cumin, onion powder, garlic powder, salt, and black pepper. After 2 minutes, add peppers and onions. Stir..
Once beef is browned, drain fat and return beef to pan..
Add mango salsa. Cook 1 minute over medium heat..
Add grilled scallions. Toss..
Serve with lime wedges..
Variations; Coconut, roasted garlic, roasted bell pepper trio, pineapple salsa, peach-mango salsa, grilled corn, chipotle, garlic, chives, cayenne, cilantro, crushed pepper flakes, habanero, bacon, jalapeño, poblano, ancho chile, almond milk, avocado, black beans, chayote, spinach, berries, red fresno peppers, honey, rum, smoked paprika, paprika, shallots, yellow onion, sesame seeds, orange zest, tomato, cotija, chihuahua cheese, cinnamon, plantains, sofrito, beer, tequila, bourbon, fireball whiskey, tomatillos, red wine vinegar, rice wine vinegar, beef stock, demi glace, smoked cumin, roasted & ground coriander, tomatillo salsa, salsa verde, queso fresco, serrano,.